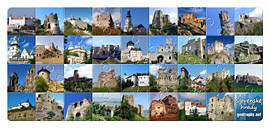 Slovak Castles
Okrem náročnej turistickej série Slovenské kopčeky môžete objavovať históriu pomocou série Slovenské hrady. Séria zahŕňa 35 kešiek ukrytých v okolí najkrajších hradov, zámkov a zrúcaním na celom území Slovenska. Slovenské hrady sa takto stanú príjemným a pútavým spestrením hľadania kešiek. Za každý odlovený kousek si můžete do statistik přidat příslušný kousek skládačky. Stačí v tabulce zaškrtnout odlovené kešky a nechat si vygenerovat kód, který pak umístíte do statistik na gc.com. Kdo první bude mít skládačku kompletní?
---
---
Play the GeoPuzzle Slovak Castles
| | |
| --- | --- |
| | Click on the button Save and generate a code. There is a code included to the textarea box. You can copy it to a clipboard (CTRL+ C). |
Now insert the code to your public profile on GC.com. Click on an arrow icon next to your avatar. Choose the settings link. There is a textearea About in the page Profile Information. Insert the code to the textarea (CTRL+V).

Do you need a help? Write me on info@geotrophy.net or visit our forum.
GeoPuzzle Slovak Castles comments